3in1 multi-mode stroller
This sleek and streamlined stroller is ready to roll on any adventure with multi-modes and deluxe comfort features.
3in1 multi-mode stroller
This sleek and streamlined stroller is ready to roll on any adventure with multi-modes and deluxe comfort features.
MODES
Removable pushchair seat creates a seamless and chic travel system when you combine with infant carrier or carry cot, so you can stroll with baby from day one and switch between car to pram without unbuckling or waking them
Car seat compatible: gemm™, i-Gemm™ 3, i-Level Recline™, i-Snug™ 2, i-Jemini™
Carry cot compatible: ramble™ and ramble XL™
Car cot compatible: calmi™R129
Comfortable forward facing pushchair seat allows baby to watch the world around them
Don't have a Joie infant seat? Use Maxi-Cosi® style attachment to pair with other brand infant carriers
Infant carriers and carry cots sold separately.
Adapters sold separately.
SAFETY FEATURES
One-touch braking system engages quickly to secure your pram safely right where you want it
SoftTouch 5-point harness features plush padded covers and adjusts to 3 heights to fit growing children
COMFORT FEATURES
Flex™ comfort ride in-seat spring suspension takes on any terrain that may cross your path and provides your little one up to a 50% smoother ride
Telescoping height adjustable handle so all parents can push comfortably
PunctureProof™ foam-filled rubber rear tyres won't leave you stranded with a flat
Smooth lie-flat recline adjusts with one hand to your choice of 4 positions to create a cosy, ergonomic haven from newborn to toddler
Adjustable leg rest with cushy calf support lets growing or tired little legs kick back comfortably
Durable UPF 50+ and water repellent canopy zips open to extend and provides full coverage to protect baby in any forecast
Pivoting and removable armbar provides easy buckling options
All-wheel suspension for a smooth ride over rough surfaces
Sleek and sophisticated 4-wheel streamlined chassis is easy to manoeuvre with one hand
CONVENIENCE FEATURES
Quick and intuitive fold, with one tug of a strap conveniently located in the middle of the seat
Automatic fold lock secures the stroller into a compact package that fits in small spaces
Handy detachable cupholder keeps your essentials close
Spacious front and back access basket easily accommodates everything you need to take along.
Front swivel wheels lock with the push of a button to glide easily over rough ground
Viewing window on sun canopy allows you to check in on your child without disturbing them
SPECIFICATIONS
Product Weight: 10.59 kg
Open Size: l 91 x w 59 x h 102.5 cm
Folded Size: l 59 x w 29.5 x h 84.4 cm
Usage: birth to 22 kg
Product Weight: 10.59 kg
Open Size: l 91 x w 59 x h 102.5 cm
Folded Size: l 59 x w 29.5 x h 84.4 cm
Usage: birth to 22 kg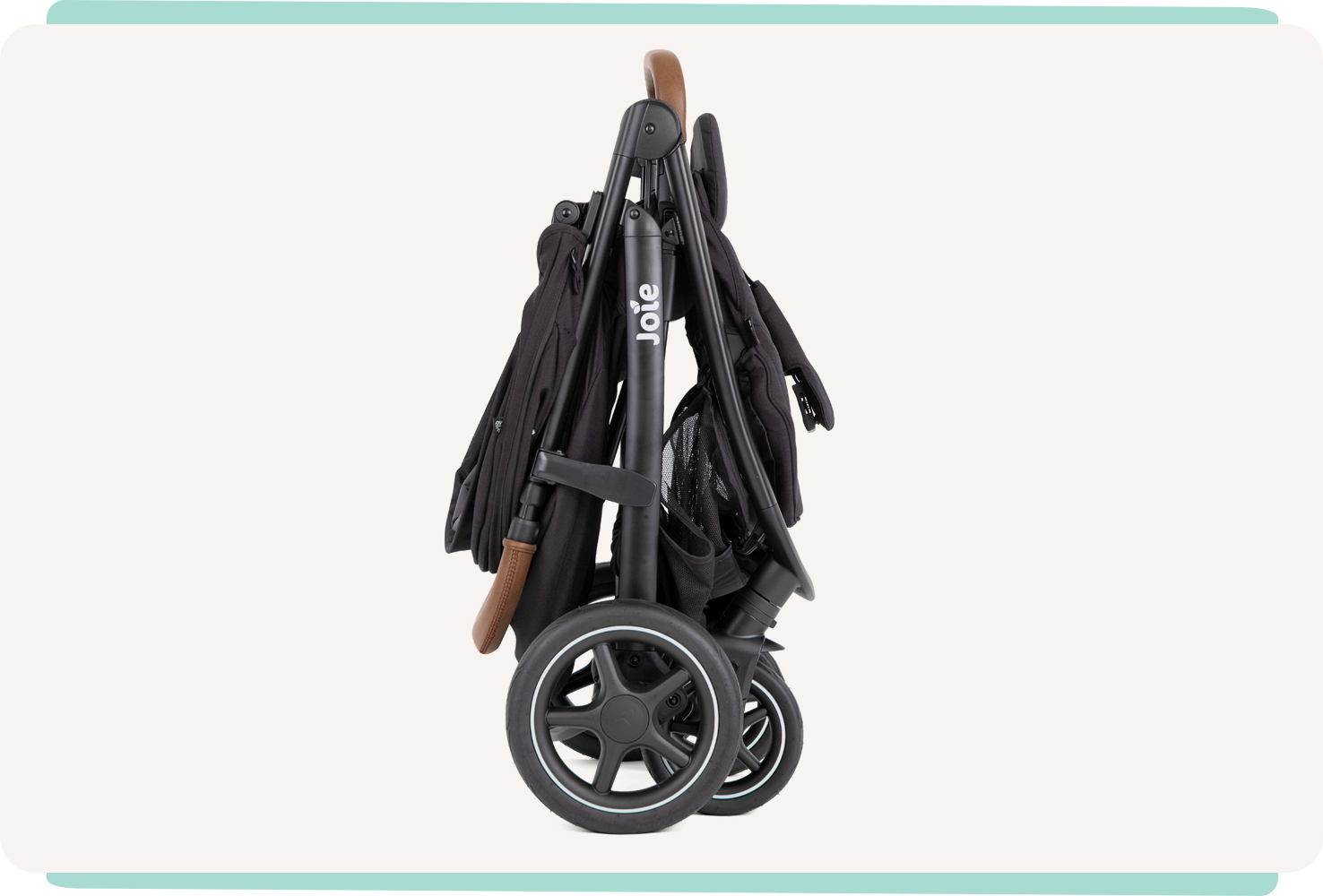 EASY COMPACT FOLD
pack up in one pull
Packing up is easy even when your hands are full! With one quick tug of a strap, the mytrax™ pro collapses into a freestanding compact fold that's perfect for tucking in small spaces or carrying on public transport.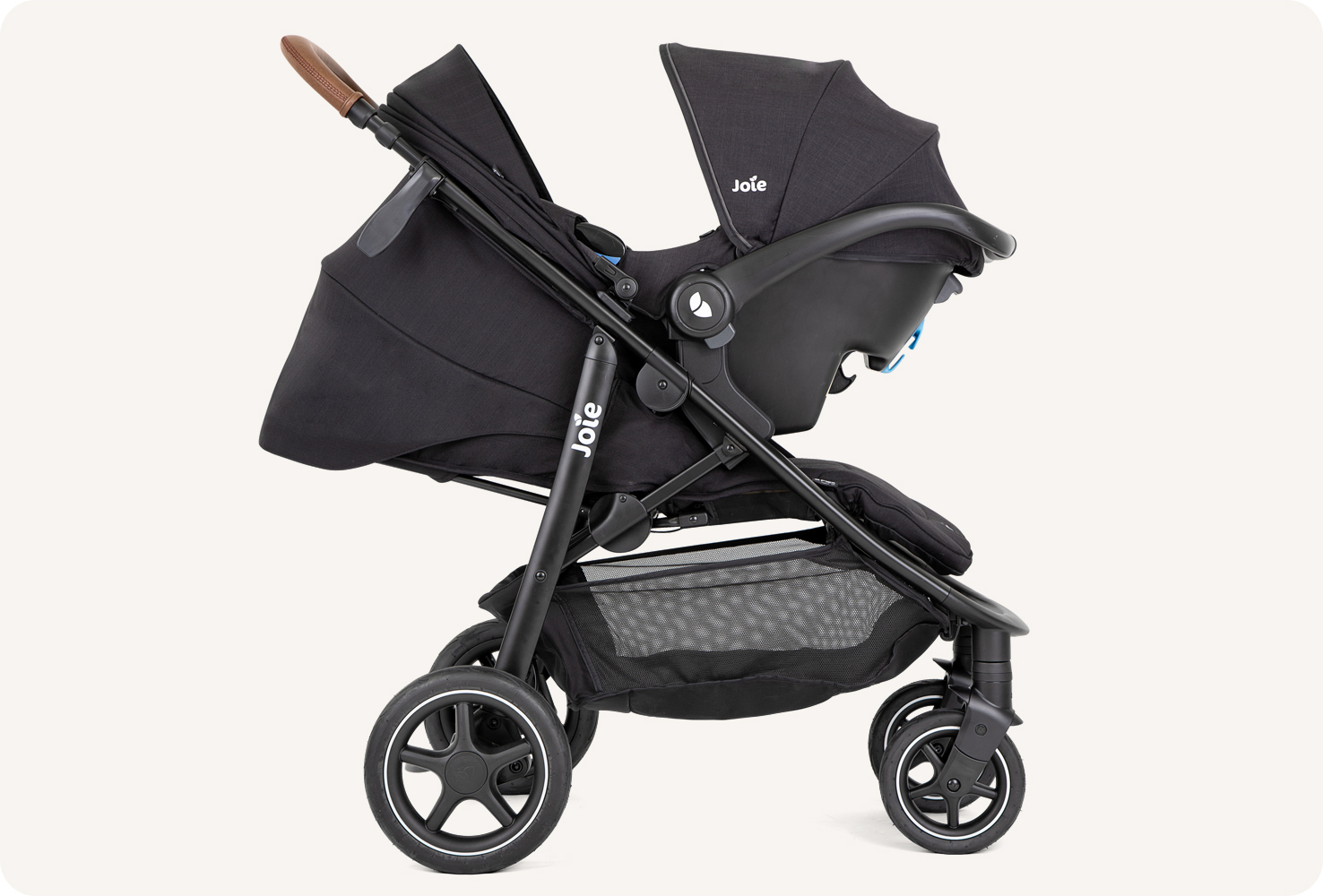 TRAVEL SYSTEM COMPATIBLE
any mode, any road
Pushchair seat removes for seamless pairing with a carry cotor infant car seat, so you can create a versatile 3in1 travel system that meets your child's needs from birth to big kid.
Infant carrier and carry cot sold separately.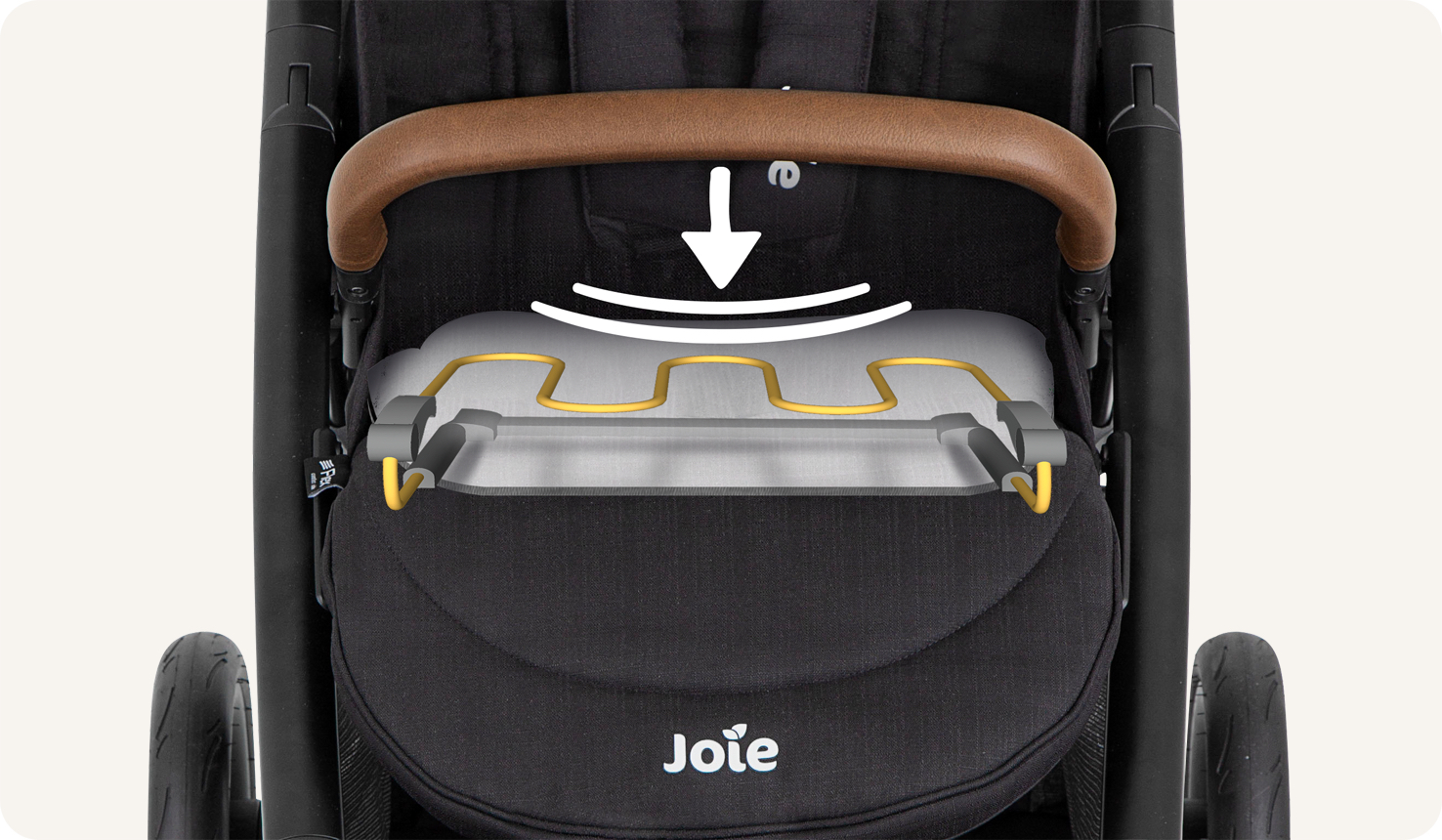 FLEX™ COMFORT
settle in for a smooth ride
With flexible spring technology built into the cushion, the innovative Flex™ comfort seat softens even the roughest rides, making them up to 50% smoother. Your little passenger will be seated snugly in the lap of luxury as they glide over every pothole or puddle.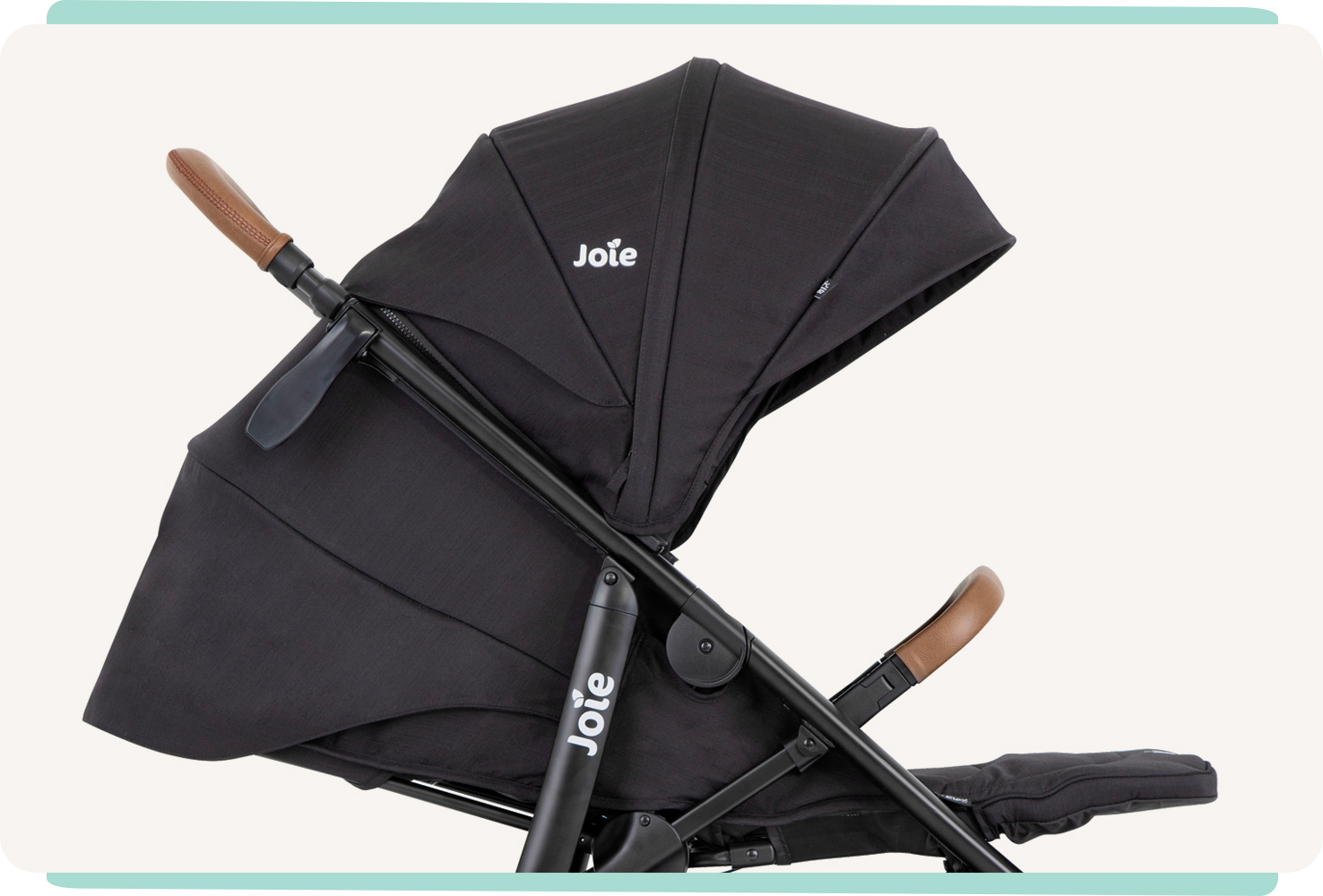 ONE-HAND RECLINE
keep naptime rolling smoothly
Conquer that to-do list as your little one naps on the go. Even brand-new babies can relax with a sheltered lie-flat recline that's perfect for safe and ergonomic snoozing as you stroll.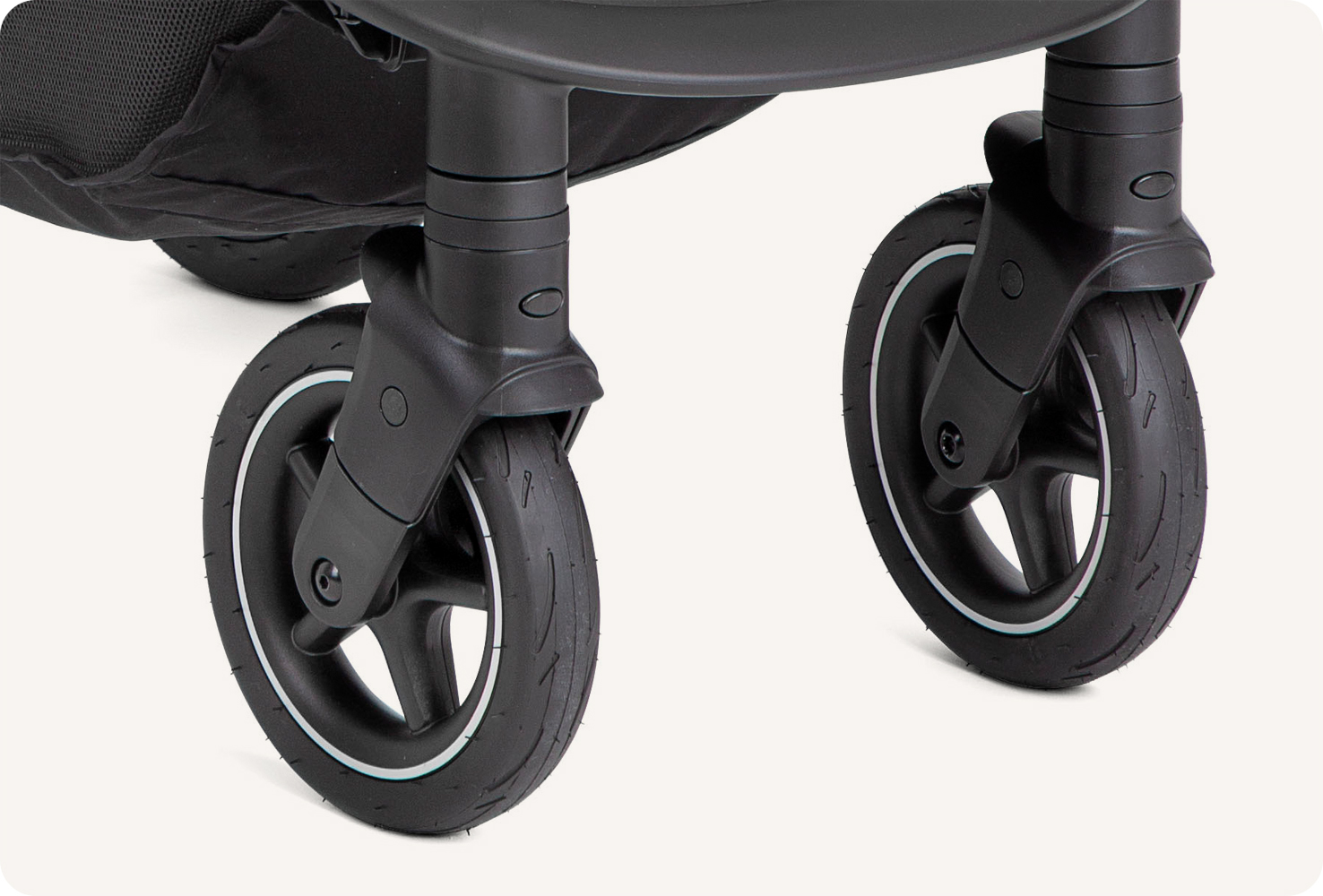 PUNCTUREPROOF™ TYRES
smooth sailing
Say goodbye to punctures and hello to smooth sailing with foam-filled rubber tyres that glide over every bump in the road without going flat.
made for life
Your baby gear should work hard for you every single day. That's why we push our products to the extreme during testing: We want to make sure they're up for any challenge you may face.
super strength materials
We use only high-quality materials in creating your gear: like aero-grade aluminum, super-strength steel and undiluted plastics.