infant swing & rocker
A multi-tasking infant swing & rocker that swings and sways, with a lift-off seat to double as a portable rocker
infant swing & rocker
A multi-tasking infant swing & rocker that swings and sways, with a lift-off seat to double as a portable rocker
COMFORT
Built in comfort for your baby carefully planned in every feature. Soft supportive materials let them know they're loved.
6 swing speeds

let you customise the soothing speed to your baby's preferences

Further customise the comfort for your wee one with

3 recline positions

Mix and match to get the perfect peacefulness for your little one's preferences

with 2 vibration speed options, 5 classical lullaby options, and 5 nature sounds

to calm little ones

Removable, washable, plush infant body support and seat pad

are cosy and perfectly cocoon baby

SoftTouch, 5-point harness

with soft lower buckle cover
CONVENIENCE 
Parenting a wee one is more than a full-time job. We've added multiple convenient features to help lighten the load.
Easily move from room to room, inside and out thanks to a

pivoting carry handle

that makes the lift-off rocker mode ultra-portable

2 wheels and integrated handle

make the swing frame easy to move as well

Comfort baby in the dark without turning on bright lights with serina™ 2in1's

soft glow nightlight

with 4 brightness settings so you can easily comfort

Pivoting overhead toy bar

with two toys for playtime entertainment

Fits through standard European doorways

Open top design for easy access to baby
MODES 
Adaptable modes to help you fit this baby swing and rocker to your baby's needs and keep them comfortable, entertained and smiling.
Lift off seat turns this

baby swing

into a

portable baby rocker

you can easily move from space to space with

A simple twist is all it takes to make the 2-way seat

swing front and back or side to side

- whichever way baby likes it best

A/C power adapter or battery operated

- to soothe little ones anywhere
Product

Size

: l 91.5 x w 73 x h 81 cm

Product Weight: 11.22 kg

Usage: birth to 9 kg
Product Size: l 91.5 x w 73 x h 81 cm 
Product Weight: 11.22 kg 
Usage: birth to 9 kg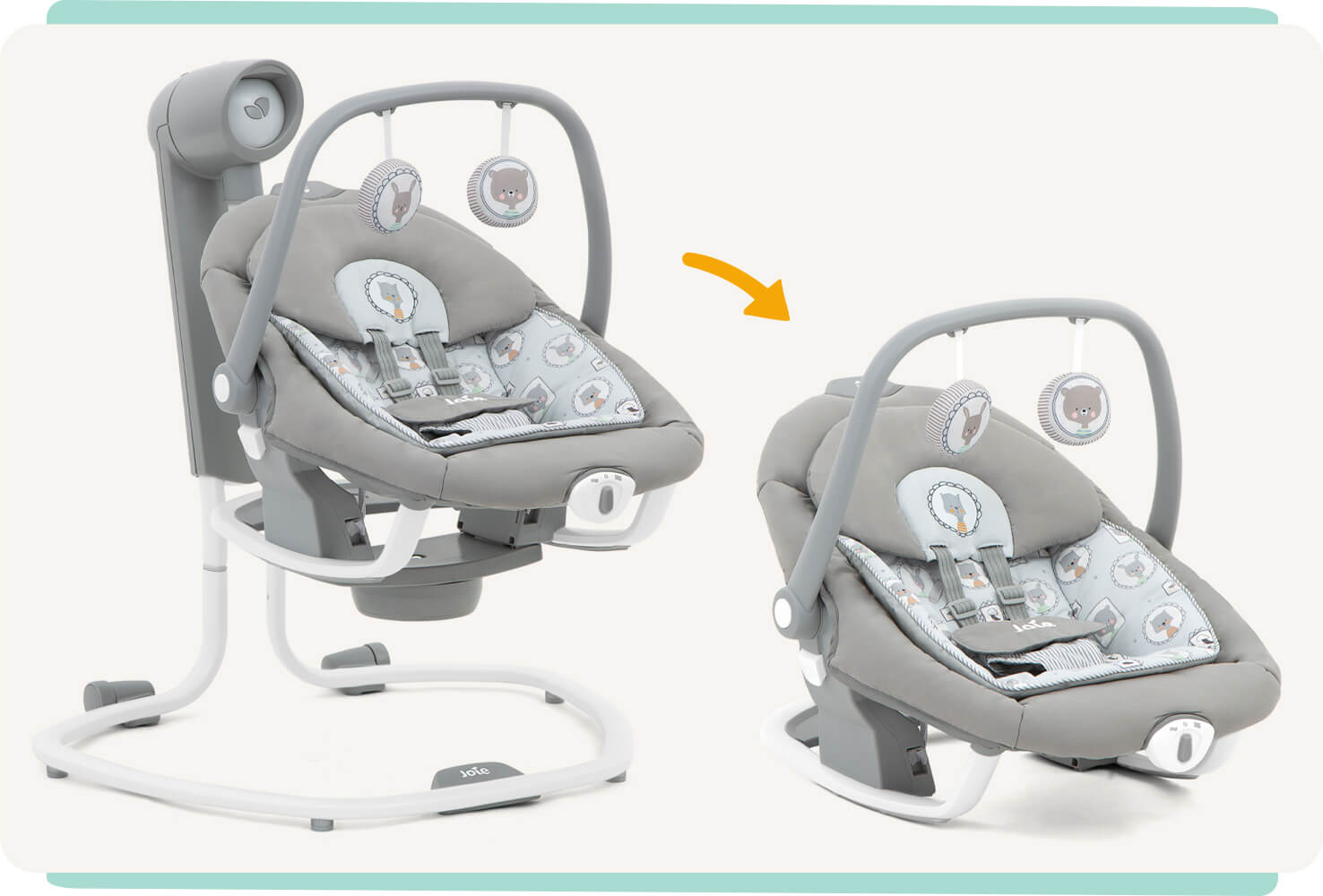 SOOTHER & ROCKER
double the tranquility
Multiple mode options give you more ways to calm and soothe your little one.  The serina™ 2in1 functions as both a baby swing and a baby rocker thanks to an innovative lift-off seat you can use in any space.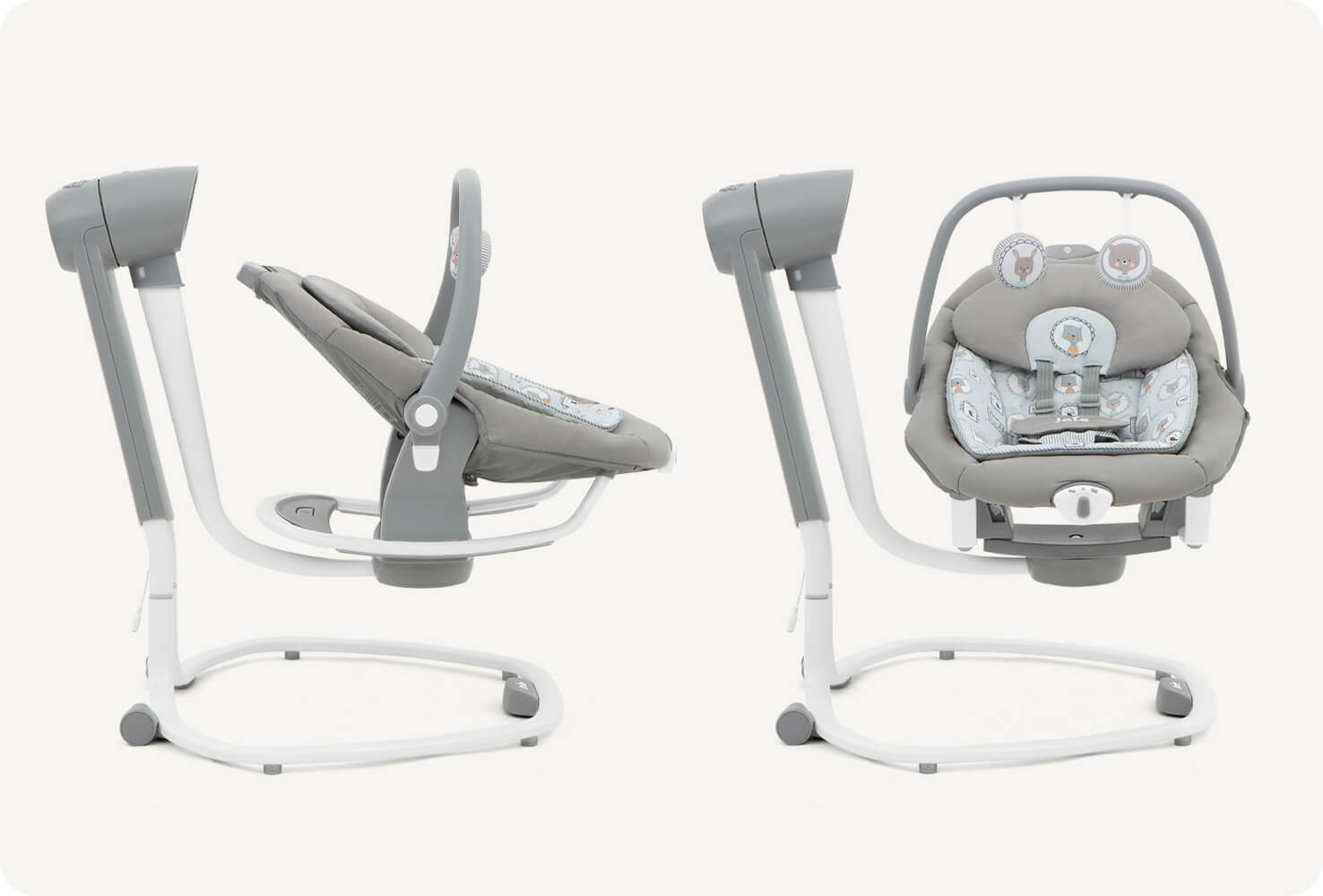 MULTIPLE MOTIONS
the any way you want ride
With a dual motion seat that swings front to back or side to side with a simple twist, you can customize the swing to the motion that's best for your baby.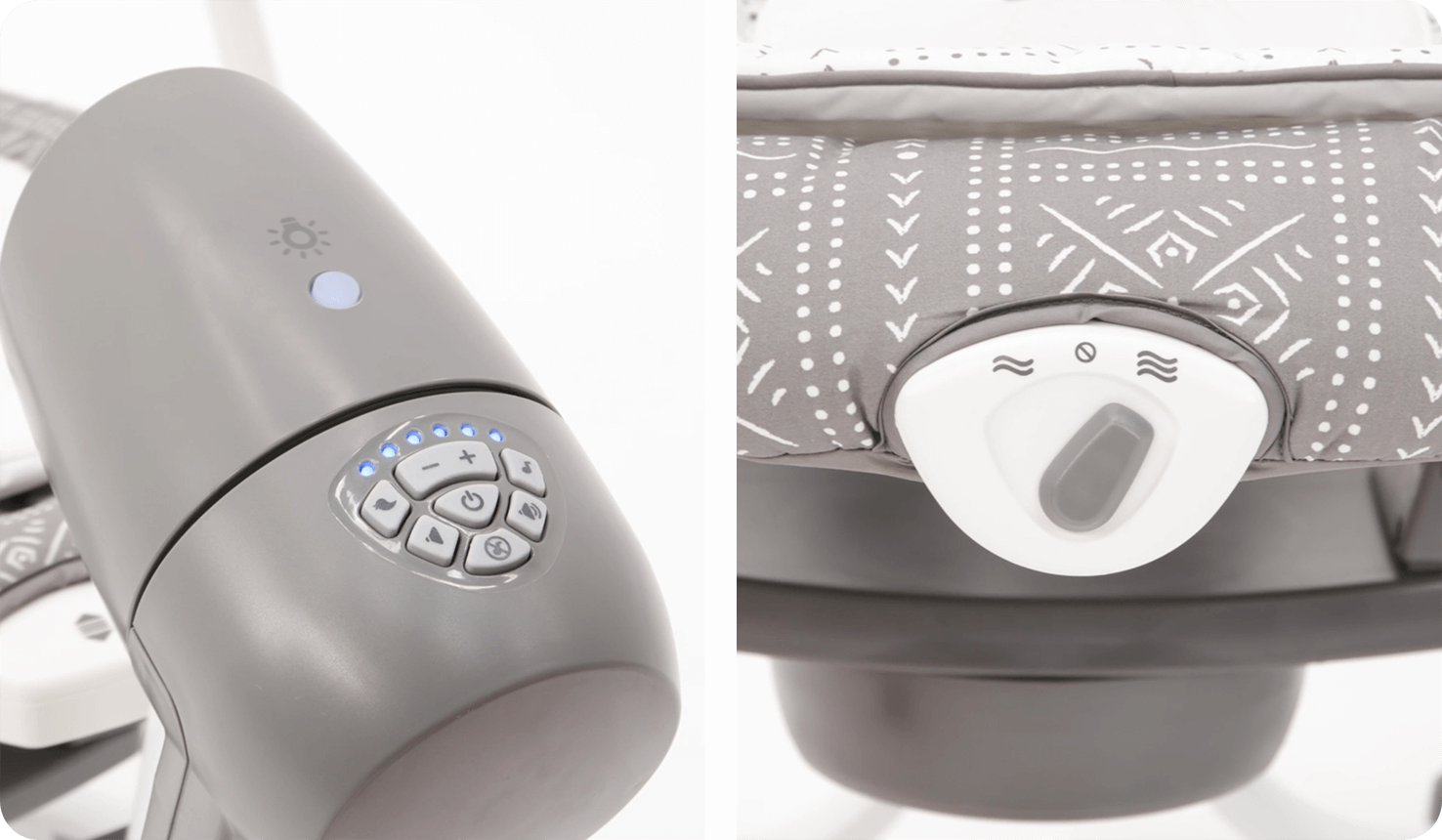 SOUNDS & VIBRATION
ready to relax
Offering 5 classic lullabies, 5 nature sounds, vibration, and 3 recline positions, the serina™ 2in1 has a variety of options you can combine to get the perfect peacefulness for your baby.
made for life
Your baby gear should work hard for you every single day. That's why we push our products to the extreme during testing: We want to make sure they're up for any challenge you may face.
formula for safety
We test for more than 150 different toxic substances to make sure your child's gear is safe even down to its basic ingredients.