lie-flat car cot for birth to 12 months
180° lie-flat car cot secures baby in the safest posture for breathing & sleeping so they can snooze safely on the go.
lie-flat car cot for birth to 12 months
180° lie-flat car cot secures baby in the safest posture for breathing & sleeping so they can snooze safely on the go.
SAFETY
Just like any new parent, we put safety first and our Signature collection offers the "best in class" safety features to make sure your precious cargo is as safe as they can possibly be:
Certified to the highest

R129 safety standards

, including side impact testing

Easy buckling

3-point harness

with padded covers

Sits laterally in the vehicle to keep baby's head the farthest point away from the doors for

the best head protection

in the event of a side impact
COMFORT
When they can't be cradled in the comfort of your arms, you can still keep them cosy thanks to our Signature collection's luxurious comfort details:
Lies flat

180º in the position best for sleep, breathing and spinal development

Removable

infant body and head support

create a custom fit at every growth spurt

Plush,

deluxe cushioning

and soft-knit fabrics to keep your wee one comfy and cosy at home, in the car, on a stroll, and beyond

Built-in ventilation

for airflow

Cool weather cover zips on and off in an instant
CONVENIENCE
Parenting is hard enough, so our Signature collection offers all of our parent favourite convenience features that make your life just a little bit easier:
Featherlight design

at just 3.6 kg means you can easily move this car cot from place to place and mode to mode

Full coverage,

UPF 50+ and water repellent canopy

blocks harmful sunrays and extra noise and keeps your newborn protected even on rainy days

Easily accessible release buttons

on sides of cot make your transfers quick and fuss-free

Keep your newborn safe, secure, and snug with effortless

one-pull tightening

of the harness

Removable, machine washable covers

make it easy to clean up after the newborn messes that are bound to happen

3

-position adjustable handlebar

Storage pockets

on both inside and outside of cot keep all the necessities within easy reach

Lie-flat car cot

doubles as both car seat and carry cot

Compatible with the Joie versatrax™, aeria™, vinca™ and finiti™ prams
USAGE

Child height 40-70cm, less than 9kg, approx 12 months

Installs with ISOFIX when paired with the Joie i-Base™ Encore or i-Base™ lx 2
Product weight: 3.6kg

Testing certification: ECE R129/03
Product size with hood up: l 82.4 cm x w 44.8 cm x h 60.6 cm
Product size with hood down: l 82.4 cm x w 44.8 cm x h 30.5 cm
2 IN 1 USE
By car or by stroll
Calmi™ R129 seamlessly transitions from a car seat whilst in your vehicle, to a cosy carry cot when used with your compatible pushchair. You'll never have to wake your sleeping baby as you traverse from car to stroll. Now, that's something to get excited about!
180° LIE FLAT
Flat out comfort
This soft and sheltered lie-flat cot was dreamed up for deep sleep and easy breathing. Its ergonomic flat lay provides the safest posture for lungs and spinal development, letting you travel longer without waking baby.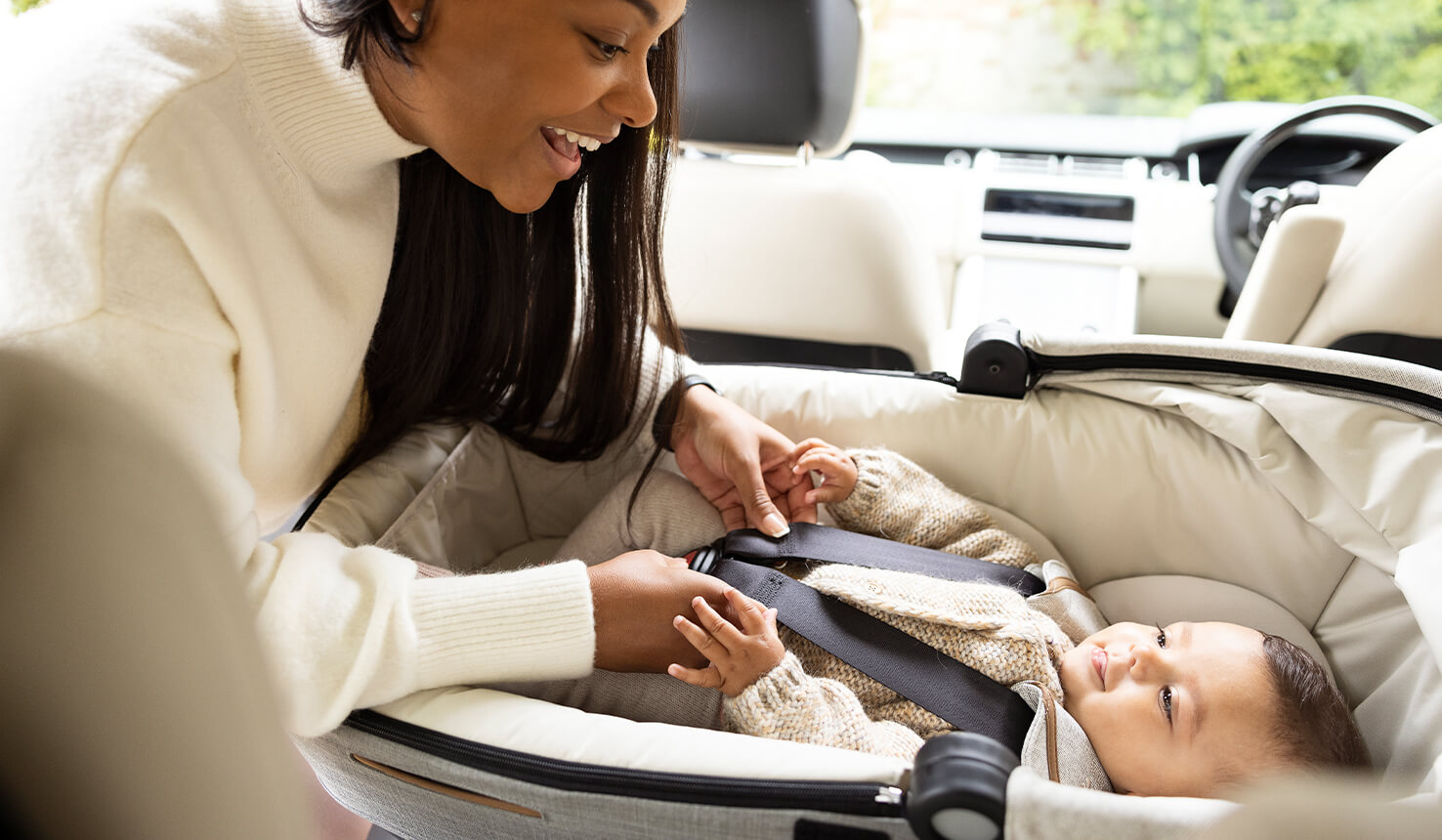 R129 CERTIFIED
Safer slumber
Certified to the latest ECE R129/03 safety standard, including side impact testing, this snug & secure lie-flat car cot installs laterally to keep baby's head in the middle of the vehicle – the safest point in a side impact collision.
LIGHTWEIGHT DESIGN
Effortless portability
This sleek 3.6kg lightweight is heavy on comfort and safety, but not on bulk – perfect for the postpartum mums who shouldn't lift much. Weighing no more than a typical carry cot, it installs into your backseat or snaps to a pushchair effortlessly.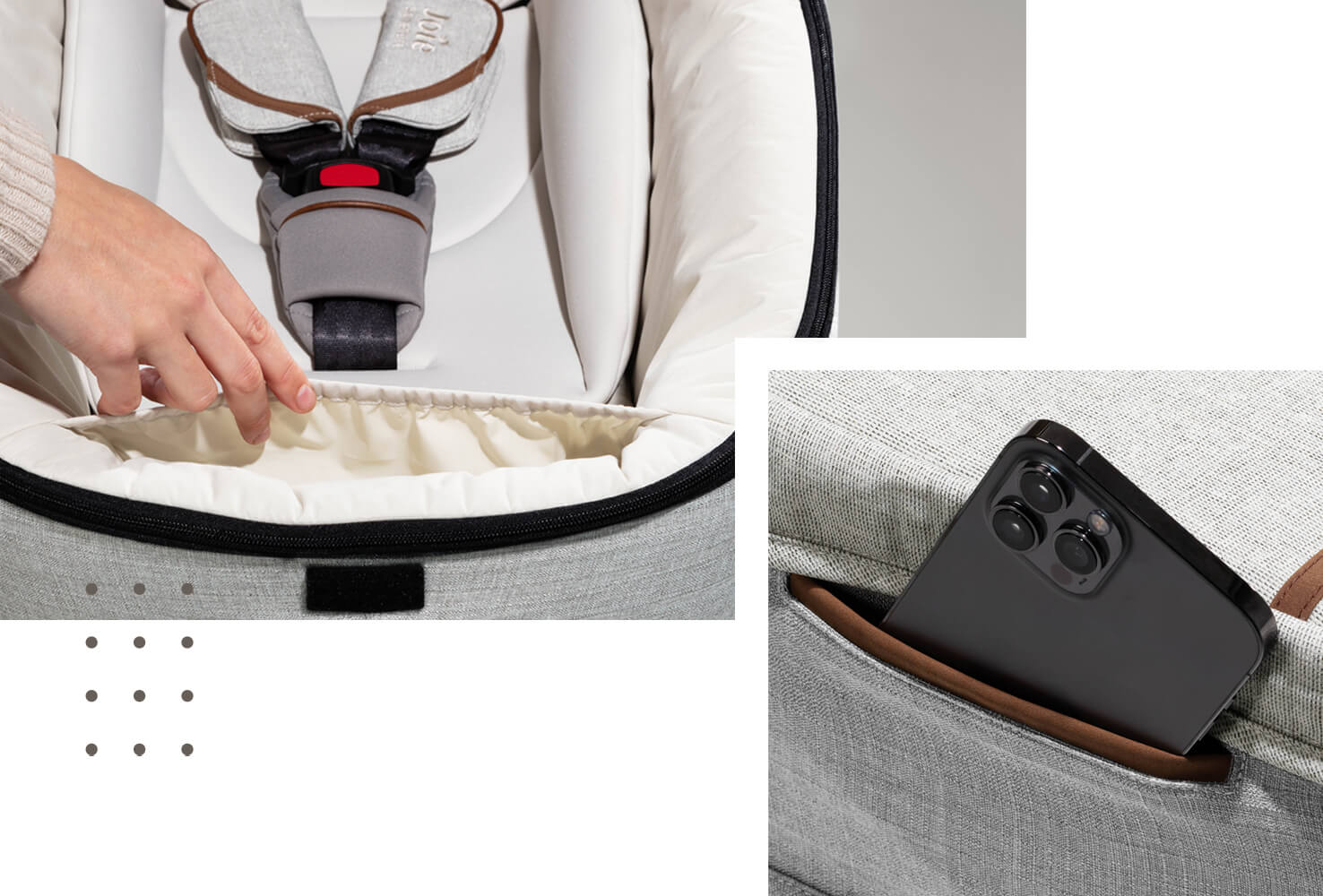 SMART STORAGE
Travel smarter, not harder
You'll be fully prepared for every outing! Pockets on the inside and exterior of the car cot ensure you'll have everything you need… and then some.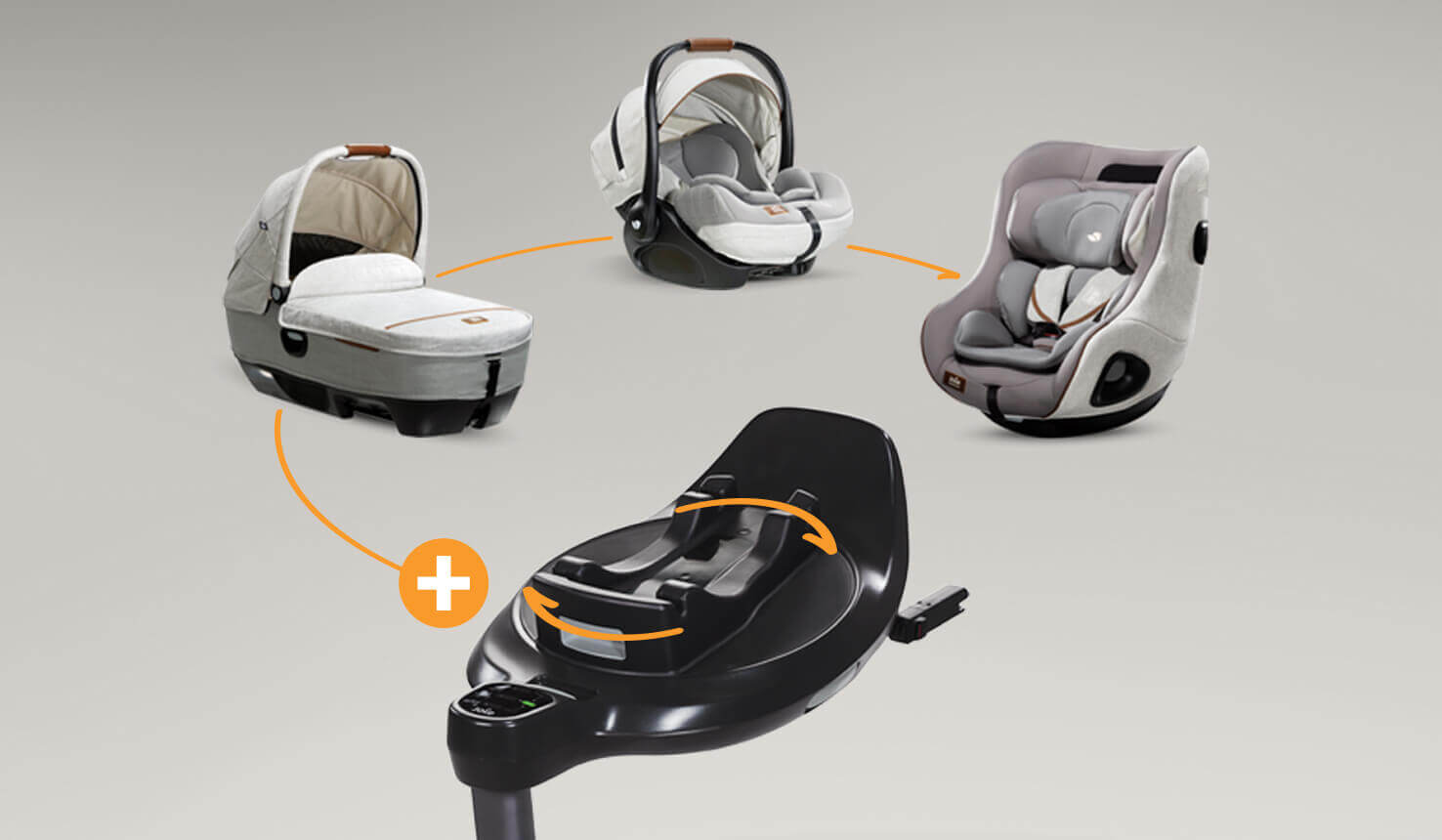 ENCORE SPINNING SYSTEM
One base. 3 seats. 4 years.
Joie's revolutionary spinning system gives you total flexibility to create a custom and convenient back seat experience as your child grows from birth to big kid, by using the same spinning base for both your baby car seat and your next-stage toddler car seat.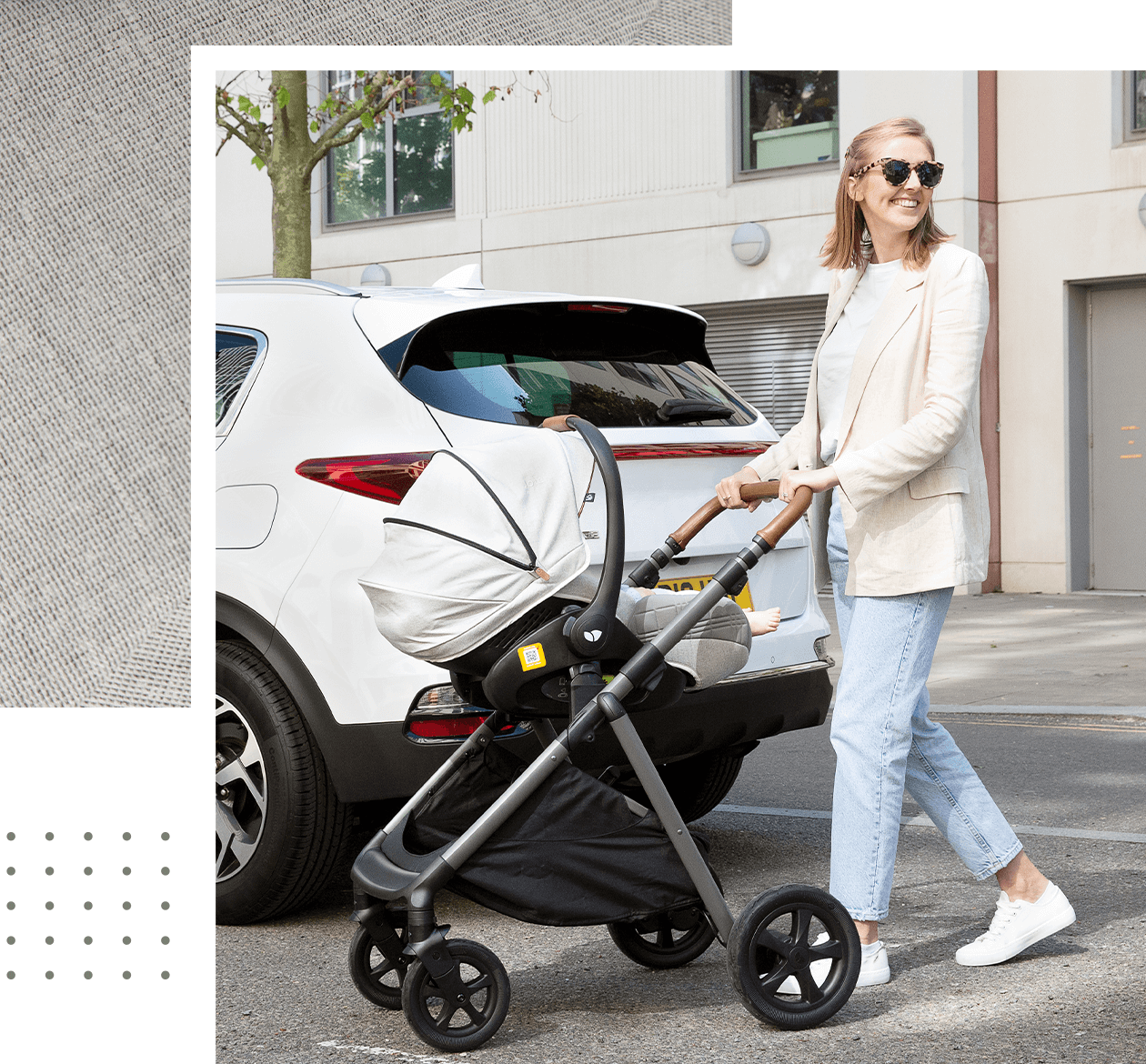 The Signature difference
There's nothing like slipping into a timeless staple piece: that's the feeling you'll get when you snuggle your little one into a Joie Signature pushchair or car seat. Go on, have your moment.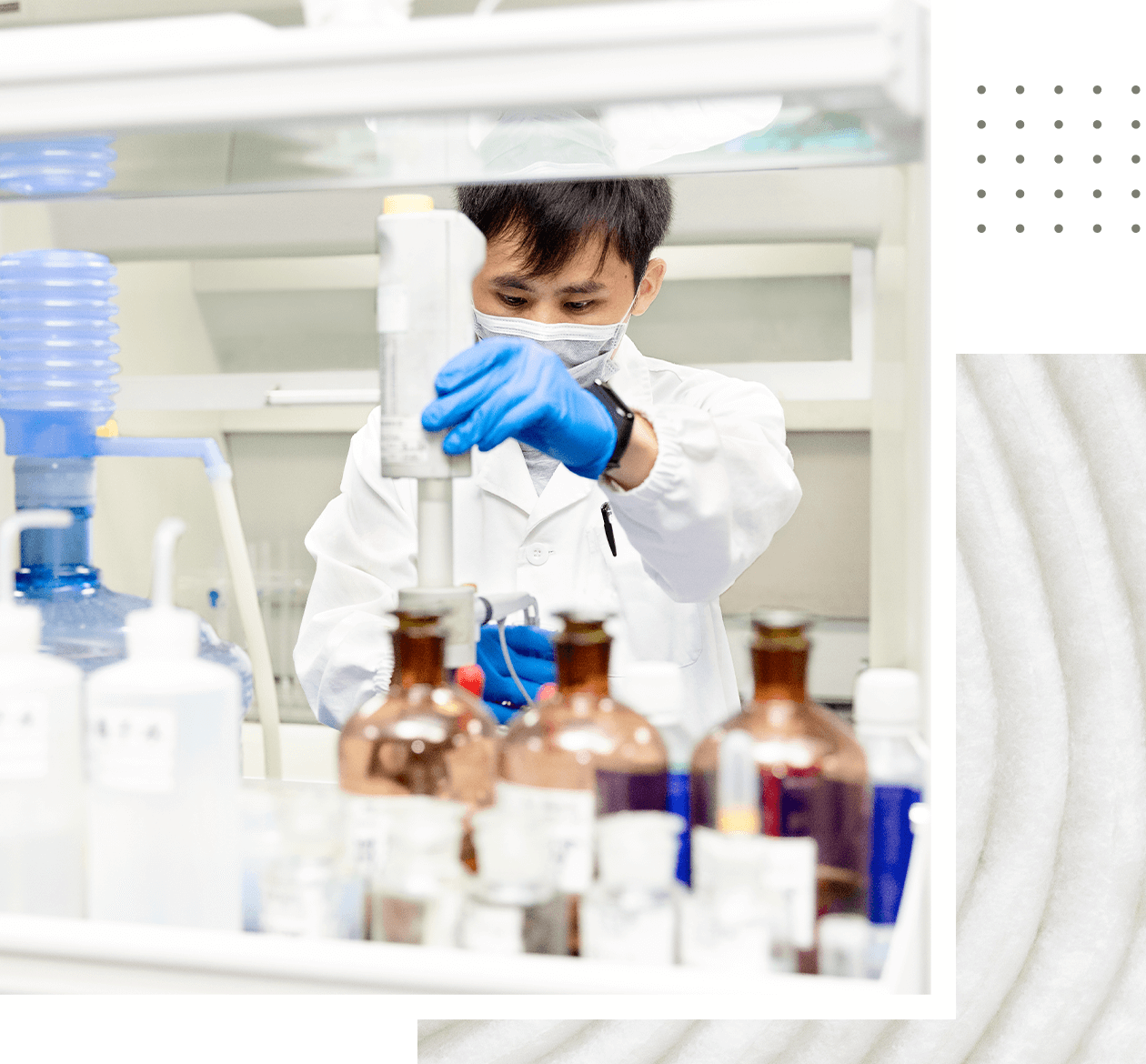 Our materials
We test for more than 150 different toxic substances to ensure your child's gear is safe even down to its basic ingredients.