Group 0+,1,2,3 car seat for birth to 12 years
An adaptable transporter built for newborns to pre-teens, and every overnight growth spurt in between.
Group 0+,1,2,3 car seat for birth to 12 years
An adaptable transporter built for newborns to pre-teens, and every overnight growth spurt in between.
SAFETY
From tiny and snoozing to big and adventurous; you want the peace of mind that they're always safe in the back. Here's how we make it happen:
Side impact protection

for a travel companion who's always watching over them
Guard Surround Safety™ side panels offer

extra head and neck protection

in the event of a collision, fold away when not in use and make every journey safer
Keep them safe with a

reinforced steel inner seat shell

engineered to maintain structural integrity during a crash

5-point harness

features

one-pull tightening

for maximum comfort and security with one easy motion
COMFORT
They go from knee height to waist height and beyond before you know it. But don't stress, we know how to keep them relaxed and comfy in the back:
Built-in side vents maintain a cooling air flow whether you're running daily errands or heading out on a holiday road trip
Keep everything neat and tidy, and in easy reach with mesh storage pockets on the side
6 recline positions (2 rear facing and 4 forward facing) mean you can keep them comfy and reduce head-flop when napping on the go
Joie's deluxe cushioning and fabrics make them feel like they're napping in their cot, or lounging on the sofa
Grow-with-me infant body and head support can be customised in seconds to keep your precious cargo comfy and snug
CONVENIENCE
Here's how we'll have you looking and feeling like a parenting pro whenever it's time to get on the road:
Easily keep up with growth spurts or use with multiple children with a 10-position headrest that adjusts with just one hand
Built-in 5-point harness storage gets it out of your way when your big kid is ready for booster mode, while keeping it handy just in case you need it again in the future
Take the guesswork out of installation with colour-coded install paths that show you exactly what to do
Have peace of mind that your seatbelt installation is snug and secure with dual lock-off device options
One-pull tightening makes sure the 5-point harness does the hard work so you don't have to
Grow Together™ multi-height headrest and harness system adjusts simultaneously and never asks you to get in a muddle re-threading the harness
AutoAdjust™ side wings widen as the headrest is raised to make sure the shoulders and neck always fit just right
USAGE
Group 0+/ 1/ 2/ 3
Use rear and forward facing
Usage: birth to 36kg; approx 12 years



rearward facing from 0-18 kg, birth to approx 4 years; installed with the vehicle's seat belt and using the 5-point harness
forward facing from 9-18kg, approx 1-4 years; installed with a seatbelt OR top tether and ISOFIX and using the 5-point harness
forward facing from 15-36 kg, approx 3-12 years; installed with ISOFIX and using the vehicle's seat belt
To comply with the ECE R44 OR ECE R129 car seat regulations of this car seat, we've included the weight/height at which the car seat can turn forward. However, we strongly encourage keeping your little one rear-facing as long as possible by maxing out the recommended rear-facing usage of the car seat.
Product Weight: 8.92kg
Testing Certification: ECE R44/04 
Product Size: l 54.5 x w 58 x h 76 cm
4 SEATS IN 1
one seat for any age
Buy it once and watch it adapt as many times as you need as your little ones become big ones on the backseat. Just what you need to stay ahead of the growth spurts like a parenting pro.
AUTOADJUST™ WINGS
automatic adjustments
As the headrest raises to accommodate your growing little one, the AutoAdjust™ side wings automatically widen to allow more shoulder space.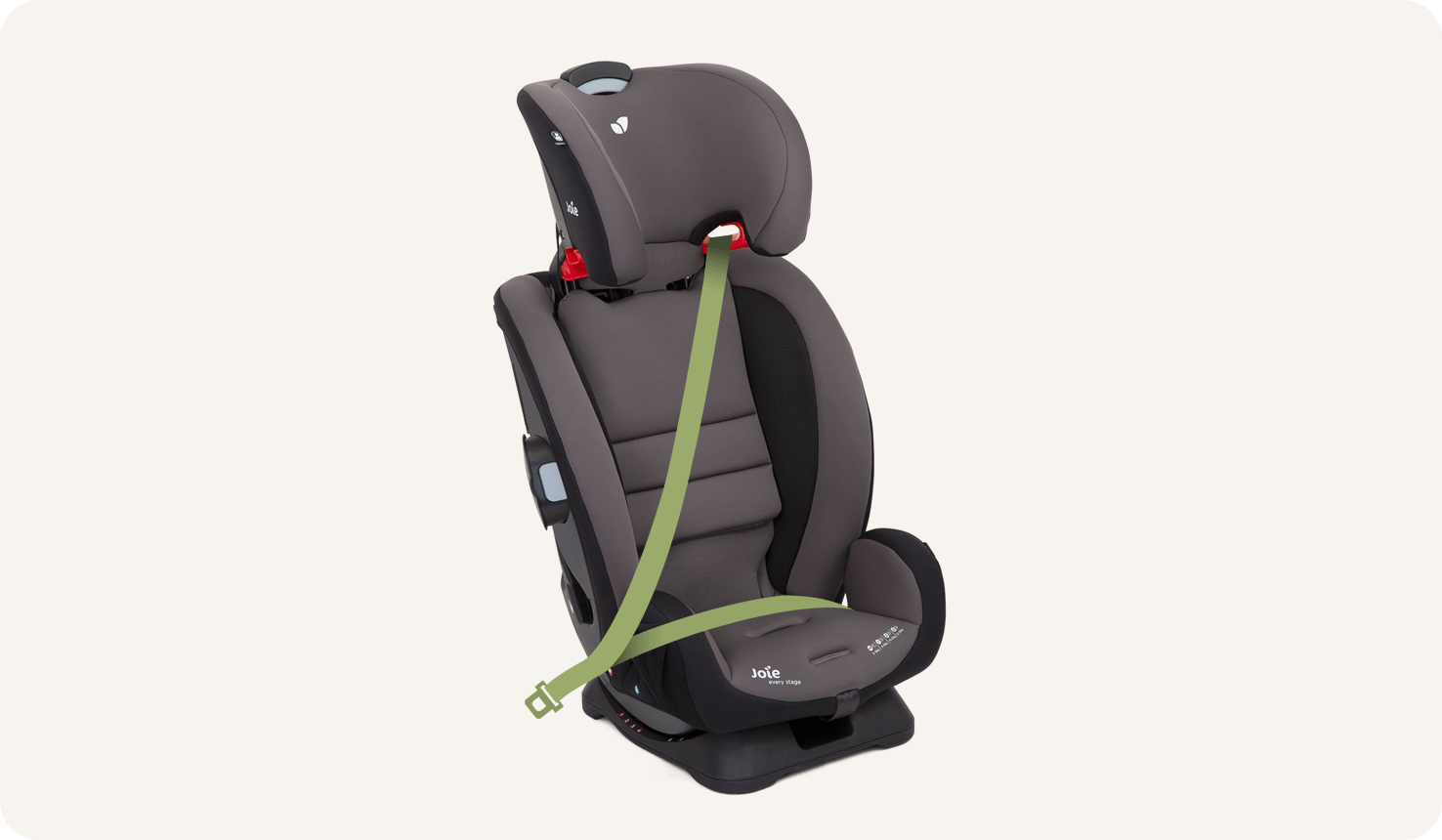 SEAT BELT INSTALL
rock solid seatbelt install
Your car's trusty seatbelt and every stage's integrated lockoffs to keep it snug are all you need to get a secure fit  that'll put your mind at ease.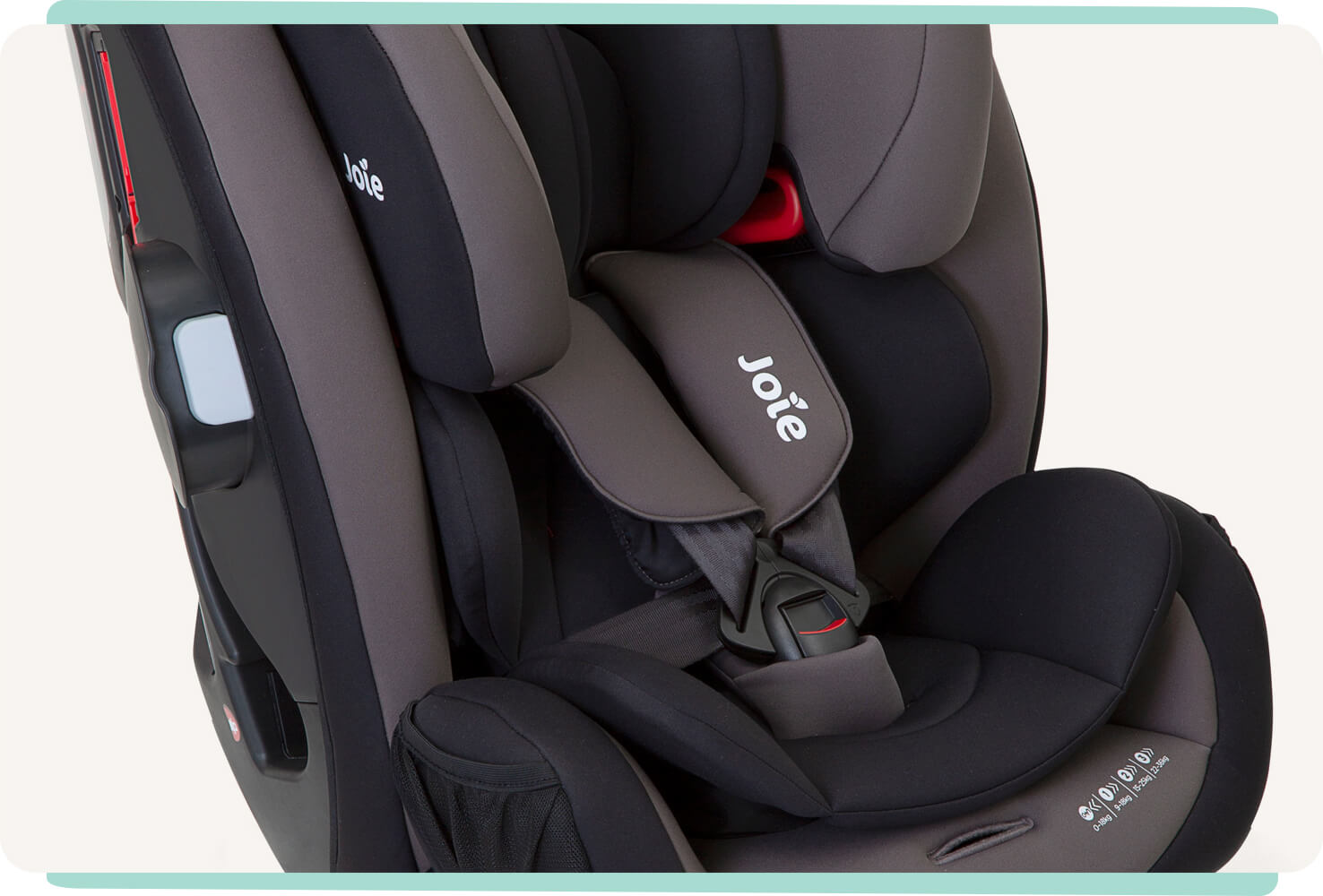 CUSTOM INSERTS
comfort in all sizes
Get a helping hand from our 3-piece insert system and you can add custom head support, body support, and an infant wedge when you need. Perfect for creating the harness and buckle fit that's just right for your child.
HARNESS HIDEAWAY
tangle-free ins & outs
Tidy the 5-point harness away when using as a Group 2/3 booster and you'll be able to take the wrestling out of those everyday ins and outs.
GROW TOGETHER™
designed with growth in mind
A multi-height headrest and harness system adjusts simultaneously with just one hand… even while the car seat is installed, and without rethreading a harness. It's just what you need to be prepared for those growth spurts that seem to happen overnight.
no such thing as too safe
Your baby gear should work hard for you every single day. That's why we push our products to the extreme during testing: We want to make sure they're up for any challenge you may face.
super strength materials
We use only high-quality materials in creating your gear: like aero-grade aluminium, super-strength steel and undiluted plastics.